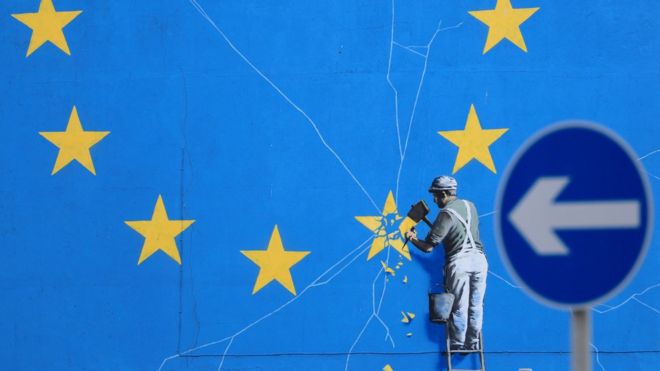 No doubt the world has been waiting with baited breath for my thoughts on Britain's tortuous efforts to leave the European Union. All two readers of this blog will now have the chance.
I do not pretend that my thoughts are especially well informed or insightful, but anyway, here goes.
First, I want to start with an unpopular opinion, in Ireland anyway. I can see some reasons why British citizens would want to leave the EU. If you are worried about national sovereignty, it is true that the EU increasingly intrudes upon it. European Law is now superior to national law in many respects. For instance, in Ireland, where it had become common to use, as evidence in court, text messages sent electronically, the European Court of Justice has recently ruled that such evidence is inadmissible.
In the case of Graham Dwyer, who was found guilty of murder in 2015, this may lead to the quashing of his conviction. Now whatever the rights and wrongs of this particular case, this and other examples does show that increasingly European law is being decided at the centre and that this overrides laws made in national parliaments. For those who consider that democracy is vested in national sovereignty, this is a legitimate concern.
Secondly, there are those who are hostile to large scale migration from the poorer parts of Europe to the UK under the EU. Now this is not a particularly attractive idea, but it is, at least, not a fantasy or a lie. There has been extremely large scale migration from eastern Europe to Britain and this has put strain on housing, service and wage rates.
Thirdly, and this is an idea I have very little sympathy with, most of the conservative 'Brexiteers' appear to believe that Britain could strike far better trade deals outside of the EU than within it. Frankly this is rather hard to believe. Why would a medium sized European country that no longer has its own manufacturing base to any large degree hold more sway than the largest block of economically developed countries in the world?
And what is more, the neoliberal (I had to use that word at least once) enthusiasts for Brexit surely do not have much sympathy for the working class voters who are concerned about immigration. But I digress, the point here is that such people appear to believe that Brexit would have economic benefits. Let's assume that this is a sincere belief.
If the above points are worth the massive dislocation in leaving the largest, richest and freest block of countries anywhere is the world is a matter of opinion. I would suggest that they do not. But I want to make another point. To take such a grave decision required a British Prime Minister and cabinet who (a) had a strong electoral mandate to do it, (b) had been working on draft plans on it for years and had a clear agenda and (c) had campaigned and won a general election on this basis. That is how the British parliamentary system is supposed to work.
Instead, David Cameron recklessly called a referendum to try to overcome internal opponents within his own party. The referendum was disfigured by systematic untruths, mostly by the leave side, followed by a very narrow victory for 'leave' followed by Cameron, the Prime Minister's resignation. Instead of there being a strong prime minister leading Brexit, there is no leadership at all.
Referenda are not part of the British constitutional system (unlike Ireland as it happens) but instead of elected representatives leading the country, which is how the British system is supposed to work, they being led by a highly fractious, one time only vote, which gives them no clear guidance on the most fundamental and crucial issues.
There does not even appear to be consensus on matters as basic as whether or not Britain should stay within the EU's free trade and regulatory area. Theresa May, who I will unkindly, but I think not inaccurately, call the default prime minister, appears not to have a problem with it, but cannot get her scheme approved in parliament.
Naturally, here in Ireland, the preoccupation is with the Border between the two states on the island. Here again, it was quite clear that this would be a hugely problematic issue and the main problem here is not that the British wish ill on us or wish to refortify the border, but rather that there has been no planning at all for this logically inevitable problem.
Perhaps what the whole saga really shows is the rot of the British (and perhaps not just the British) system of representative government. Having been accustomed for far too long to marketing type campaigns in order to try to win votes, its politicians seem incapable of doing what they are in fact supposed to do, which is govern the country, to solve problems and to plan for the future.